A Kosher Adventure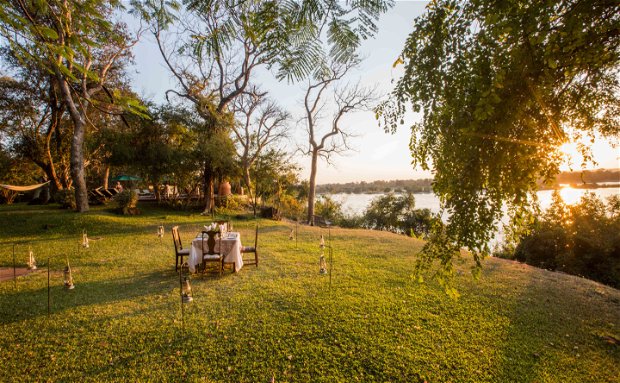 Zambia boasts a fascinating past as the home of one of the oldest Jewish settlements in Africa. Although the country's Jewish population was always small, around 1 200 at its peak, members included significant figures in Zambia's economic and political life.
The history of Zambia's once active Jewish community is a personal passion here at The River Club. The team's enthusiasm for the subject has led us on a journey from the past to the present. Along the way, it was decided that The River Club would offer an opportunity for those seeking to visit the Zambezi River and surrounding attractions while remaining observant, to experience true Kosher dining.
KOSHER DINING AND CULINARY OPTIONS  
The River Club has two separate, dedicated Kosher kitchens where all food prepared is kept separate from the main lodge kitchen. Both Kosher kitchens are structured according to strict kosher rules in which all cutlery, crockery, utensils and equipment are stored permanently and all food and ingredients are strictly kosher. Each kosher kitchen has its own washing up facilities too.
 
The beef and lamb used is imported by The River Club from a Glatt Kosher butchery in South Africa, under the guidance of a reputable Rabbinic authority, and fresh whole skin-on Zambezi Bream is bought locally from a nearby fish farm. Fresh fruit and vegetables are sourced locally and stock is plentiful, however seasonal. All dairy products are purchased locally and are strictly kosher.
 
The River Club is familiar with the requirements of Shabbat observant guests.
KOSHER KITCHEN 1 AND KOSHER KITCHEN 

KOSHER KITCHEN 1
 
Kosher Kitchen 1 serves exceptional, excellent quality Kosher cuisine prepared by The River Club staff who are highly trained in Kosher dining practices. This menu is an affordable option available to a single person or a group of up to ten. Guests are invited into the kitchen to review ingredients or when necessary, to light the stove as per their requirements. It is important to us that our guests are satisfied with their kosher dining experience, which is why we invite them to be part of the process.
 
KOSHER KITCHEN 2
 
Kosher Kitchen 2 also serves excellent kosher cuisine, however this kitchen is reserved for guests who want the preparation of their kosher food to be overseen by a Mashgiach. The kitchen is completely sealed at all times when not in use and no one is permitted to enter the kitchen in the interim.
 
This dining option comes with an additional cost required for the Mashgiach who travels to Livingstone from Johannesburg, South Africa. We recommend this option to larger groups.
GENERAL KOSHER INFORMATION 
Kosher guests are welcome at any time, to inspect the kosher kitchen they have booked.

If they wish, kosher guests may light the gas stove in the morning before coffee is made or breakfast-cooking starts.

The River Club regularly takes care of guests over Shabbat; we therefore understand what is required.

The River Club keeps a small range of kosher wine in stock, imported from South Africa. There are no suppliers in Zambia. The brand of choice at The River Club is from the Cape Jewel wine farm in the western Cape, South Africa. Please note, kosher wines, no matter the brand, are classed as PREMIUM; price per bottle ranges from US$ 20 to US$ 45.
KOSHER MENU 
Mainly due to seasonality and unpredictable availability of certain items, we do not prepare kosher menus in advance (the same holds true for the main lodge kitchen). Menus are prepared on a daily basis.
The chef on duty, an expert in kosher catering, has a general food discussion with guests during the check-in process to give them an outline of what can be offered during the stay according to availability at the time. Thereafter the chef spends time daily with guests, finalising meal plans for each day. Ultimately, guests decide what they would like on their plates and whether a meal is parev or milchik.
BREAKFAST
Breakfast consists of a buffet with fruit, muffins, kosher yoghurt (when available) and cereals, set out with the cereal boxes intact so guests can verify they are kosher products. In addition, guests can also order whatever freshly-cooked, hot breakfast-food they like. Guests usually eat from the buffet and from the hot menu combined. Fruit Juice is Kosher Liqui-Fruit 100% Apple or any other kosher flavours available at the time.
We are always scouting for anything kosher on the local shelves that we didn't know was there before. If we find any other kosher juice flavours, we snap them up as well. Liqui-Fruit Apple is one we know is usually in stock.
LUNCH AND DINNER 
Both meals are prepared in line with daily discussions between the chef and guests.
THE KOSHER FOOD ITSELF
MEAT - Raisin Rib Beef and other popular cuts, as well as Lamb Chops, are especially imported from South Africa. All guaranteed 100% Glatt Kosher meat. Actual cuts in stock at time of stay depends on availability at that time.
FISH - Delicious fresh whole skin-on indigenous Zambezi Bream comes from a fish farm nearby; always available.
CHICKEN - Sadly, not available in Zambia. Chicken imports, kosher or otherwise, are barred by the Zambian Ministry of Health.
VEGETABLES - Fresh vegetables and fruit are seasonal and in plentiful local supply, as are fresh eggs.
DAIRY - All dairy is locally-purchased kosher product. Supply can be erratic and limited at times, so some items are subject to availability at the time of stay. Sadly, The River Club is unable to offer cholov Yisroel dairy.
KOSHER FOOD STORAGE 
All kosher food is kept separate from other food stocks in dedicated fridges, freezers and shelf-space.
For more information on our kosher offering, please contact reservations@theriverclubzambia.com