The Suite Life
Posted on Wed September 7, 2022.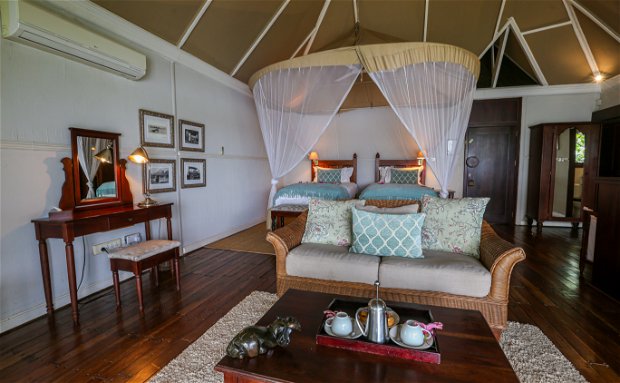 Choosing a suite at The River Club can be a tough decision, however we have made it easy for you to decide which best 'suites' your requirements!
ALL of our suites offer elevated Zambezi River views, private space, handmade robes to wear (or purchase), a hairdryer, mosquito nets and insect repellent, flashlight, digital safe, multi-national plug adaptors, air-conditioning, and tea and coffee making facilities.
River Suites x 7
BEDS: option of one empire-king or twin singles
BATHROOMS: two bathrooms; one en-suite upstairs, while the full bathroom downstairs offers its own stupendous views
HIGHLIGHTS: spectacular views of the Zambezi; the downstairs bathroom also boasts a bath with a view
IDEAL FOR: couples or friends comfortable sharing a suite
Luxury River Suites x 2
BEDS: One queen-size bed (no option for twin beds)
BATHROOMS: full en-suite bathroom
HIGHLIGHTS: private sunset-facing decks with plunge pool and small enclosed private garden
IDEAL FOR: honeymooners or special celebrations 
Luxury River Family Suite
BEDS: one queen-bed PLUS twin 3/4 beds. One additional bed can be placed between the twin beds to create a triple single set-up OR placed separately (please note the two bedrooms are semi-private)
BATHROOMS: each wing has its own full en-suite bathroom
HIGHLIGHTS: this suite features a family-size dek complete with private plunge pool
IDEAL FOR: families with 1 - 3 children or maximum 5 adults
 
PLEASE NOTE: This suite will be closed from November 2022 for a few months due to maintenance.
Princess Mary Villa
BEDROOMS: Upstairs en-suite master with queen-size bed PLUS downstairs bedroom with twin single beds. The lodge can set up two additional single beds in the living area OR one extra single between the twin beds downstairs
BATHROOMS: upstairs master en-suite and downstairs communal bathroom
HIGHLIGHTS: This suite is completely private with river-facing enclosed garden, a pool deck, separate covered verandah, comfortable family/ living room and swimming pool
IDEAL FOR: families with up to 4 children
For more information please contact our Reservations team on reservations@theriverclubzambia.com