July at The River Club
Posted on Mon August 2, 2021.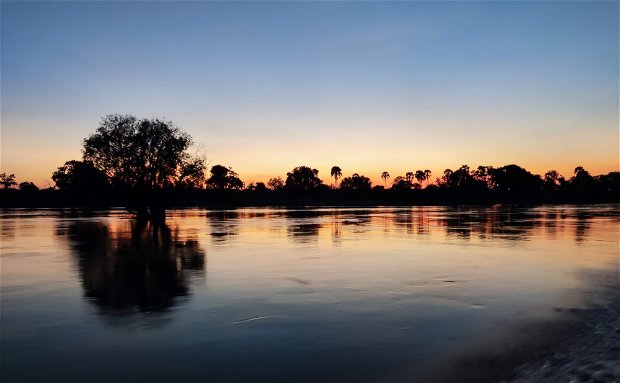 A Tale of Two Weddings & One Courageous Couple 
This delightful Polish-Greek pair celebrated nuptials in both their birth-nations to satisfy both their families separated by prevailing world trials and troubles.
 During the journey between the two events, they stopped in Rome to seek the Pope's blessings.
After the second wedding on the sunny Greek Isles they jetted south to enjoy some well-deserved peace and pampered quiet at The River Club for the first phase of married life.
Their morning ritual became a hammock-lie-in on the balcony right above the river enjoying ideal weather and utter serenity; soothing endless bird-calls, monkey's rustling past, hippos talking in the shallows of the island – all during that first cup of in-room morning coffee.
This was a lovely 6-night stay that ended with recharged honeymooners ready for the next stage of their journey together, and determined to return for a second honeymoon one day to share our paradise with family and friends.

We thank Agnieszka and Manos for making a concerted and determined effort to reach us despite the present climate of international travel. We appreciate the faith in the support of The River Club at the end of a long trek to get here. We look forward to your return one day and wish you everything of the best for a long happy future together.
And thanks to Jeremy for the lovely sunset cruise photo of the pair.
Speaking of Honeymoons.. Honeymoon Island is Open Again! 
It's the chilly winter dry-time of year and it's biting harder as the river falls bringing at last, the good news that The River Club Island has recently emerged from beneath the 20-21 flood season.
Honeymoon Island is now sufficiently high and dry to offer up its lovely squeaky-clean-sands for picnic lunches, afternoon tea or sundowners, served with the usual River Club flare!
 
This lunch occasion was the first this season, arranged as a surprise birthday treat for special guest Tamar. Mack and Kaunda provided logistics and service with back-up from the team running kosher kitchen that day. Thank you for sharing the gorgeous photos Jeremy!
Another Famous Island
It's great to see guests again enjoying Livingstone Island and the swim on the edge in Angels Pool. Only a few more weeks to go and the seasonal flood will recede sufficient for levels to become too low for Angels Pool and low enough for the re-opening of Devils Pool.
Tamar and Jeremy found their visit to Livingstone Island on top of the middle of Victoria Falls to be an experience they will remember forever.
A bucket-list experience! Thanks for sharing Jeremy and Tamar
Sad Goodbye to a Charming Couple
After 3 nights and 2 action-packed days, sadly the time came to say farewell from The River Club Teams to these delightful guests. We are grateful for the effort made to travel from a distant home, taking COVID-tests 5 times along the way, and accepting last-minute flight changes without concern that all arrangements would be well taken care of by competent experts (Tourism That Cares and The River Club) and would work out. The last-minute home-ward-bound flight changes afforded us the delightful opportunity to spend an additional night with them as our guests and gave time for them to enjoy more of what the area has to offer. We enjoyed their company tremendously and look forward to their promised return with family and friends.
Thank you also to Tourism That Cares for continuing to support The River Club during these times, and for assisting intrepid travellers such as these to navigate international routes and forging for them a stress-free path through the highlights of our region.
The Liondo Farm Staff-Vegetable Project 
The River Club staffers and their families are still reaping the benefits of the use of a piece of lodge owner Peter Jones' private Liondo Farm, a few kilometres away from the lodge.
Lodge cook Arnold who is also a keen, green-fingered gardener is in day to day charge and the fresh healthy produce keeps coming. 
Olivia Jones checks the current yield – thank you Peter for the update and the pictures
Another Story with Local Flavour 
You would not think so, but this is the local-area private Security Consultant, Jimmy, dressed today in traditional gear, working at the behest of a private association of owners of near-by lodges, residences, farmers and other businesses who all benefit and support those that live and work in our community, as well as those who come to visit.
The private-initiative Zambezi River Security Association employs four full-time staffers as well as Jimmy, and has been quietly serving the area between Mosi-oa-Tunya National Park and Kazungula for over 7-years in conjunction with local law enforcement agencies including anti-poaching teams. Needless to say this has gone a long way to securing the well-being, safety and serenity of all who enter here.
July 2021 in General
It has been a good month as we see the steady return of International visitors while also continuing to receive a contingent of domestic guests, many of whom return for repeat stays.
We were pleased to welcome back the Irwin's this month, who decided to indulge in another pampered stay for their 40th wedding anniversary treat. Heartfelt congratulations from The River Club and best wishes for many more to come.
Several International guests at the moment are those making fairly short-notice plans to see our special region of Africa. Others are those who postponed from last year, still determined to travel this year and not postpone again to next. It was a real pleasure to meet and host you all.
Heartfelt thanks to each one of you for going through the effort required to reach us in our oasis of calm in an otherwise chaotic world.