Bunny Chow Recipe
Posted on Tue October 25, 2022.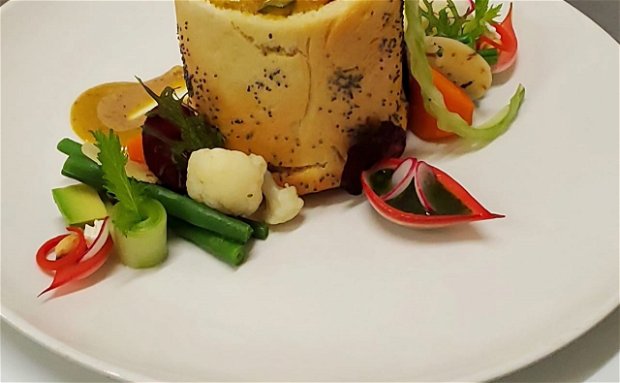 This month Chef Tawanda has shared his delicious bunny chow recipe!
This dish is vegan, vegetarian AND kosher!
INGREDIENTS
1 cup parboiled cubed potatoes      
1 cup parboiled carrots,                      
1 cup cauliflower florets.                    
1 cup fresh mushrooms.                      
1 cup zucchini, cut into cubes.          
1 cup frozen green peas
4 tbsp oil
2 onions sliced
2 tablespoon mild curry powder
1 tablespoon fresh ginger
3 green chilli
6 curry leaves
3  tomatoes, sliced
4 sprigs fresh thyme,
Half cup fresh coriander leaves, chopped
1 brioche loaf sliced in half
Salt and ground black pepper to season
METHOD
Heat the oil in a non-stick pan, stir-fry the sliced onion and the curry powder, fresh ginger and chilli.
Stir-fry until combined as sticking to the bottom of the pan and declared with white wine, then add turmeric
Add all the remaining ingredients, cook until tender and the sauce is thick
Halve the brioche bread and fill with the curry
And enjoy!!